Hantro G-Series 1 Video Decoder
Multi-format configurable hardware design for multimedia integrated circuits (ICs)
Decode WebM Video Content With Full Hardware Acceleration!
The Hantro G-Series 1 multi-format RTL hardware decoder brings an unprecedented level of format and resolution support to enable all kinds of video applications. It is the first hardware decoder in the market to encompass full WebM video support, significantly extending the video playback time of Internet-connected and HTML5-enabled battery operated devices.
Intended for chipsets targeting multimedia devices (DVD/Blu-ray players, HD set-top boxes, mobile devices, netbooks, etc.), the Hantro G-Series 1 is built on silicon-proven designs deployed in millions of chips worldwide, and provides semiconductor manufacturers with a minimal risk solution for integrating high performance video capability to their chipsets.
The video decoder design is exceptionally fast, requiring less than 100MHz clock frequency to decode 1080p video at 30 fps, and can even achieve 60fps decode for 1080p video. The core supports unlimited multi-format, multi-channel decoding, enabling simultaneous playback of up to ten SD streams. It uses unique pre-fetching and buffering mechanisms to enable smooth operation with low-end SDRAMs, realizing significant savings in power and overall chip design and manufacturing costs.
Compared to commercially available software solutions for digital signal processors (DSPs), the G-Series 1 is more power efficient, consuming less than 50 milliwatts for HD video decoding, and less than 10 milliwatts for SD video.
Design innovations optimize silicon utilization and integration
Easy back-end: Single clock domain;low number of isolated single port SRAM and clock gating elements; no dual port memories.
Format and post-processing configuration: optimize silicon area by selecting only the formats and functions you need for your SoC design.
Performance configuration: choose internal memory size according to your resolution requirement - from QCIF to 1080p.
Target SoC configuration: choose the bus protocol interface from AHB, AXI, OCP and APB.
Easy application development: simple application programming interface with OpenMax, multimedia framework plug-ins available.
Supported formats and resolutions
| Format | Max. Resolution | Profiles |
| --- | --- | --- |
| WebM/VP8 | 1080p | All |
| MVC | 1080p | Stereo High Profile |
| On2 VP6 | 1080p | All |
| On2 VP7 | 1080p | All |
| DivX | 1080p | DivX3, 4, 5 and 61 |
| MPEG-1 | 1080p | n/a |
| H.263 | SD | Profile 0 |
| Spark | 1080p | Sorenson Spark |
| MPEG-4 | 1080p | Simple and Advanced Simple |
| H.264 | 1080p | Baseline, Main and High |
| VC-1/WMV9 | 1080p | Simple, Main and Advanced |
| MPEG-2 | 1080p | Main |
| RealVideo | 1080p | RV8, 9 and 10 |
| SVC | 1080p | Base Layer |
| WebP | 256 Megapixels | |
| JPEG | 67 Megapixels | |
G-Series 1 Hardware Decoder Block Diagram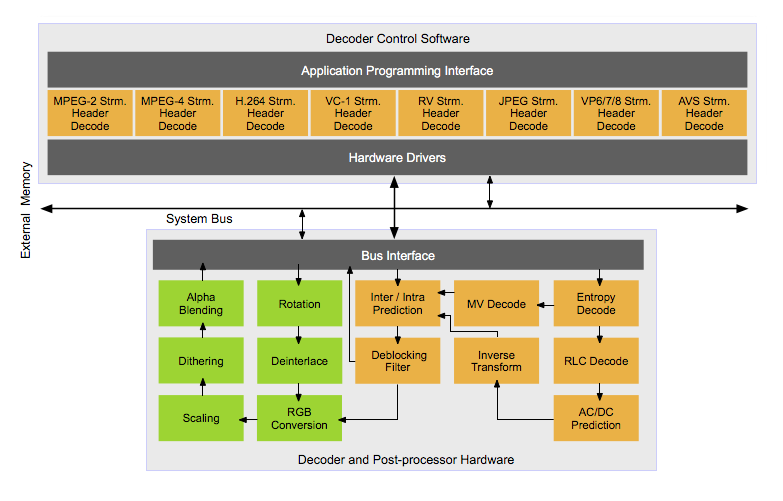 Enhanced Post-Processing Features
Simplifying device integration, application development and enhancing image quality, the post-processing functions of the 9190 can also be used in stand-alone mode.
Configurable ARGB color conversion simplifies integration with different displays.
De-blocking filter for MPEG-4 and H.263 enhances image quality during playback.
Bicubic image scaling with stepless scaling ratio assures best quality reproduction of high resolution images on low resolution screens and upscaling to high resolution screens.
Image rotation provides for landscape and portrait image orientation.
RGB Image brightness, saturation and contrast adustment.
Image cropping enables the viewing of media at originating resolution on small screens.
Picture-in-picture facilitates applications such as video telephony and channel preview in mobile TV.
Programmable alpha blending and masking features enable smoothly overlaid sub-titling, semi-transparent GUI and advertising banners.
Dithering provides the best rendering for screens with limited bits per pixel.
De-interlacing for on-the-fly conversion of content for progressive scan displays.
Deliverables
RTL source code (VHDL or Verilog) with RTL test bench and test data.
ANSI C source code for hardware drivers with software test bench and test data.
Technical documentation; hardware and software integration guides and application programming interface (API) manuals.
Licensing
Contact the following partners for licensing:
---
DivX Home Theater Profile Qualified ↩