Video Enabling Technologies for Semiconductor and Device Manufacturers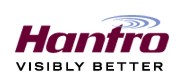 Since 1992 Hantro have been developing technologies that excel in resource limited environments such as the mobile phone and, since 1998, have been applying this accumulated knowledge and experience to create highly optimized embedded video codecs and multimedia applications.
The leading brand in embedded multimedia with more than 200 Million codec deployments; whether you are watching television, a live news or sports stream, playing downloaded video clips or recording moments to share with friends and family, if you are doing it on your mobile phone the chances are you are using Hantro technology.
Why choose Hantro for your embedded solution?
Increasing competitiveness and shortening product life cycles make integrating high performance video to any device a challenging task; the computational requirements for video coding can often mean a more costly CPU as well as excessive power consumption, in addition low cost high speed internet connectivity opens access to a limitless amount of video content in all sizes and formats. Hantro embedded technologies provide the solution for meeting these present and future demands with optimal support for multiple formats in resolutions from QCIF through to full HD (1080p).
See our article in DSP DesignLine, "Mobile video: ARM vs. DSP vs. hardware (Why HD video requires hardwired architecture in mobile devices)"
Tested and proven in mass production and in the field
The first license agreement for a Hantro hardware video codec was made with Sanyo in 2001. Since that time Hantro technology has been licensed and integrated by such world leading semi-conductor and handset brands as Nokia, Samsung, Conexant, LSI, Mtekvision, Freescale, Atmel, AustriamicroSystems, HiSilicon, Jade Technology, Spreadtrum, TCL Alcatel, and Quanta.
Interoperability guarantee
The interpretation and implementation of open standards can differ significantly from company to company. Without subscribing to thorough testing programs it is impossible to ensure seamless interoperability; testing against reference streams only, whilst indicative, is high risk as essential test cases are bypassed making a 100% guarantee impossible. Click here to find out more about the interop testing of Hantro technologies.
Proprietary technologies
Enhance performance, ease integration and enable a more compelling user experience. Proprietary algorithms as well as pre and post-processing technologies deliver superior quality and compelling performance. Furthermore, they bring significant development cost savings by enabling the faster deployment of applications including: camcorder, player / streamer, video telephony and mobile TV.